August 7th, 2008
The Game Libratory. Library plus laboratory, the project aims to collect gaming hardware from the entire history of our industry, assembling it all in one place where it can be accessed for cultural studies and scientific use (and hopefully a LAN party or two). [via andre]
Matt Barton and Bill Loguidice's excellent A History of Gaming Platforms series continues on Gamasutra, this time with a personal favorite of mine, the Atari 8-Bit Computer. A book is in the works.
The Last Guy, available soon on PSN, is a clever rescue the civilians during the zombie apocalypse game that uses real-world satellite maps for the gameplay stages. As a promo, they've released a web version that builds the play level from a submitted web address.
Looking to fill out your Sega collection? CAG nebrazca78 is auctioning off a ton of Genesis, 32X, and Master System gear. I'm gonna keep an eye on a couple of those 32X titles.
Filed under
MLP, nostalgia, video games
|
Comment (0)
August 2nd, 2008
Here are a few shots from Catechism Mode, one of the game types in the upcoming Game Trivia Catechism for iPhone. Based on GTC DS, this new iPhone version will feature expanded gameplay, multiplayer modes, and even more trivia questions. Developed by Thuyen Nguyen, Josh Martin, and me, GTC will be a free appstore release sometime this fall.
We're looking for a talented chiptunes-style musician or two to contribute original music for the project, if that's you or someone you know, please let us know!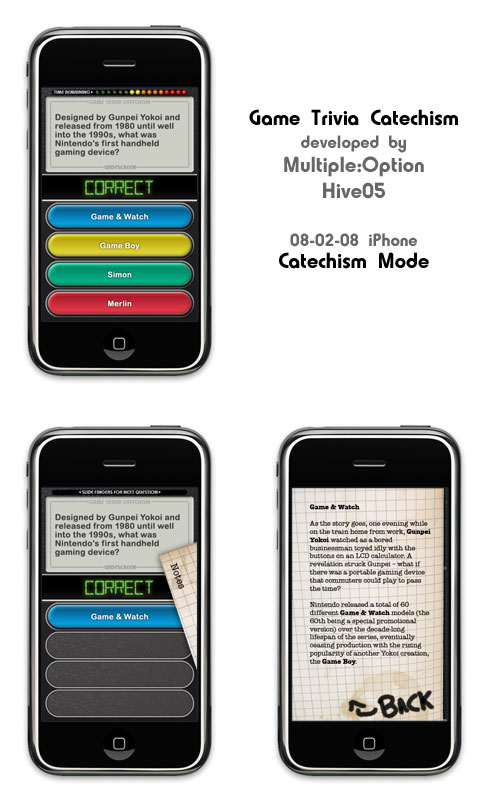 Filed under
indie gaming, propaganda, video games
|
Comment (0)